The infrequency of my posting lets you know that I often struggle with coming up with ideas for new posts. So I think I need to start coming up with more themes. I already have Throwback Thursday, which I really need to start writing about again. Now I have a new feature that I'd like to introduce to everyone: An Open Letter. Because sometimes there are just people or things that I need to address with a strongly worded letter. I already did something like this when I wrote a letter to my 20-year-old self. Today's open letter is directed towards 2016.
Dear 2016,
First of all, how dare you? I trusted you. I had high hopes for you. I truly believed that this was going to be a great year.
I already know what you're going to say. "It's only April. I still have so much left to offer." ENOUGH! I don't want to hear it. You have been one disappoint after the next. And you haven't only fucked with me. Maybe if it was just me that you shit on, I could take it. But you've been disrespectful to my close family and friends. That's where you've crossed the line.
It's only May. We've only had four months of you and I already know plenty of people who are wishing for you to end.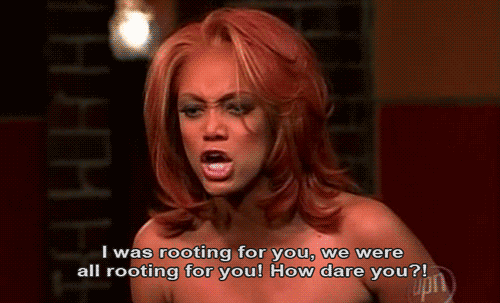 That's right! I am about to go on a Tyra-like rant on your sorry excuse for a year. You have to cut the shit. Sure life is supposed to be what you make it and  we're in charge of our own happiness. However, this is really hard to do when you keep getting in the way. I'm not going to get into details about all the things you've done to me and my friends and family. You're fully aware.
This letter is me begging. Pleading. Please cut the shit. I've had enough. We've all had enough.
This is supposed to be a good year. It's the year of the Summer Olympics. That's one of my favorite things in the world and I have to wait every four years for it. That's just one of the many things that was supposed to make you a great year. Don't have us sitting here praying for 2017.
Just get your shit together. Or better yet just step back completely and let us live without pissing on our parade.
Sincerely,
Someone who wants to  enjoy the last 8 months of this Godforsaken year!
P.S. If you could stop killing off iconic artists, that'd be great!