So I haven't kept up with my blogging. Shocking, I know! I am going to give credit to my girl Wendi over at This, That and the Other Thang for inspiring me to finally get back on the blogging track. (By the way, do yourself a favor and go follow her. She's the best.)
This summer has been crazy busy for me. I can't remember the last day where I had absolutely nothing planned and don't know when my next free day will be. But I'm definitely not complaining. This summer has been insanely fun even when the heat's become unbearable. (If we could stop with the 90 degree weather, that'd be great!)
Even though I've been really busy I want to stop neglecting this blog. But first I'd like to play some catch up with all the things that have been going on with me lately and all the ridiculous thoughts I've had.
Nothing made me realize just how old I am more than my most recent trip to Miami. I went to Miami for a bachelorette party two weeks ago. It was so much fun. I drank some awesome drinks, ate delicious food, and lounged by the beach/pool all day. All in all it was a fantastic vacation but oh boy did it take a lot out of me! Partying for three nights straight was more than my 30-year-old self could handle. I'm pretty sure I got all my partying out for the rest of 2016.
I climbed an actual mountain last month. Mount Tammany on the Delaware Water Gap to be exact. It was tiring and there were a few times while climbing up that I thought I was going to die but ultimately it was so worth it. The view was amazing and when we got back to the bottom there was a river where we could go swimming. While I despise exercising normally, I definitely think that climbing mountains could be my thing.
If you don't walk away from the new Ghostbusters a little in love with Kate McKinnon, I question whether you're really human or not. Seriously though, go see the new Ghostbusters movie. The trailer doesn't do it justice at all. It was highly entertaining and Kate McKinnon is AMAZING!!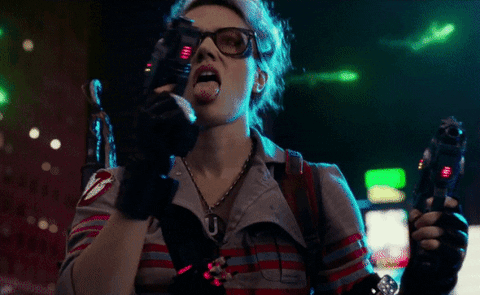 I hate all of my family and friends on FB. If you think I may be referring to you, then I am definitely referring to you. Just SHUT UP! You are all idiots and absolutely no one cares about your political views. Also, let me introduce you to the site snopes.com. Let it become your new best friend.
Speaking of political rants, this entire election just leaves me sad and angry. I don't want to get into it too much cause I don't want to be like my dumb FB friends I was talking about before, but this election is just depressing. I genuinely fear for the country I live in.
And that's what you missed. Well there's definitely some other stuff going on but I'll save those things for their own posts. For now I'm just happy to be back and can't wait to start blogging again.