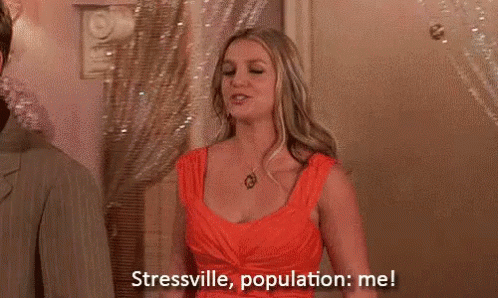 Well I really let this blog get away from me. I am not sure how this happened. My last post was January 19th. It's been almost a year since I've shared with everyone. I always had plans to write something. I even have a draft from May 30th titled Hopefully I am Back for Good. That post just has the title and a gif so clearly I didn't even give coming back an honest try.
The second half of 2018 has been a stressful time for me. Some good stress and some bad stress. I almost moved in the summer. It fell through at the very last minute which resulted in the loss of my apartment. I've been living with my bf in his parent's basement since July. I've spent the last several months applying for and interviewing for jobs outside of NYC. My mom was in the hospital last month for a little over a week. Thankfully she's OK now. My best friend is getting married and I'm the maid of honor which has meant a lot of party planning, dress fittings, and other wedding events. Add a car accident into the mix and it's safe to say that I am all ready to kiss 2018 goodbye.
I am an anxious and stressed out person naturally. I wish this wasn't the case but it is who I am. So when things become hectic in my life they are amplified. I know that I am not alone with dealing with anxiety and I would be shocked if someone reading this claims they've never had to deal with stress. Stress is a part of life; it's pretty hard to avoid.
While there's no way to completely avoid stress, there are thankfully ways to deal with stress and make things a little bit easier.
Take a bubble bath – There is something about soaking in a suds-filled bath in a candlelit room with your favorite song playing that makes you feel like you're on a vacation. This vacation may last only 30 mins but it's a nice distraction from the world.
Don't be afraid to talk to someone – This is something that I need to work on. When I am sad, I tend to like company but I don't like to ask for company. Everyone else around you is going through their own stuff. They may not necessarily notice when you need a little extra TLC. There's nothing wrong with telling someone you need them around.
Get lost in your favorite comedy – When I am feeling really down, nothing does the trick of putting me in a good mood quite like watching The Office. Something funny and familiar can help you to forget about the stresses of real life.
Get outside – And no, I am not advocating working out. You're already stressed; the last thing you need is someone telling you about the wonders of working out. I am just letting you know about the wonders of fresh air. A simple walk around the block can be an amazing de-stresser.
Color or craft – I am not as creative as I'd like to be. I have an entire board on Pinterest dedicated to awesome things I can make for my apartment by hand. I haven't made a single one. The thought of having to make my own spice rack fills me with dread which is the exact opposite of what this list should do. But if crafting is your thing, then by all means dig in when you're feeling stressed. For the rest of you, I'd like to suggest coloring. Adult coloring pages are all the rage right now and it's one trend I 100% support.
Don't add extra stress if you don't need to – I said this before and I'll say it again, stress is impossible to avoid. It's a part of life, but when things are already super stressful don't add any unnecessary extra stress. Learn to say no to things you really do not want to do. Stay off social media if it adds to your stress. Avoid watching the news because that shit will make you miserable and depressed.
Here's to 2019 and it being the least stressful year yet. Or at least all of us knowing how to manage that stress as best as possible!