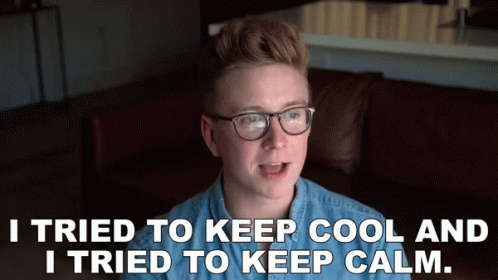 I am not a chill person. I am not laid back. I do not let inconveniences, whether big or small, simply slide away, easily forgotten. All my life, I have wanted to be this person. I wanted to be the cool chick. The one who didn't stress about minor things. After 33-years, I have accepted the fact that I will never be the cool chick. I am too anxious for that to ever be me.
My anxiety and my inability to let things go tend to have a negative affect on my happiness. My default reaction is to ask, "Why is this happening to me?" When things are going bad or someone upsets me, I will immediately think about all the other things in my life that need improvement.
Happiness is something that I have to work on. I hate to admit this but it doesn't come naturally to me. I'm not saying I'm always miserable. I have a lot of things in life to be happy about and a ton of things that bring me joy. I just need to spend more time reminding myself of these things than other people do.
While there are plenty of people out there who are genuinely upbeat and always look on the bright side of things, I doubt that I am alone in my battle for happiness. If you're like me and have to work a little bit harder to be happy, I hope that the following tips can help when you need to remind yourself that things aren't always so bad.
Remind yourself of all the good things in your life and all that you have to be grateful for. It's so easy to dwell on the bad stuff. When your car didn't start and you spilled coffee all over yourself and it's Monday, it's hard to think, "Well at least I'm breathing and have a roof over my head." But you are breathing and do have a roof over your head.* Those are things to be really fucking thankful for. 
Remind yourself daily of the things that do make you happy. Make a list if you need to because I know how hard it is to think of those things when you all you want to do is have a breakdown. Read the list everyday. Read it multiple times a day if you need to.
Don't ever forget that list of happiness but also allow yourself to feel sad. It's a normal human emotion and you're not less of a person for feeling blue from time to time. Just don't dwell on it for too long and don't let one bad thing spill over in to so many other aspects of your life.
Don't beat yourself up if your default reaction to life isn't calm coolness. That's just another thing to stress about. Instead, focus your energy on happiness.
*I recognize wholeheartedly my privilege in writing this. I have the luxury of being sad and dwelling on trivial things because I don'y have to worry about the heavy stuff like where I'm going to sleep at night.