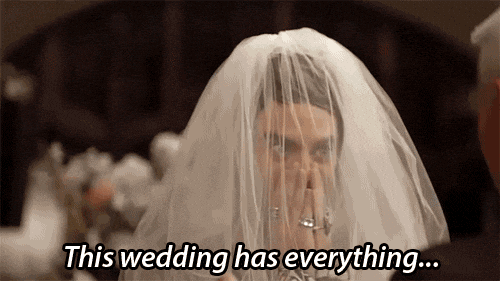 There should be a second part to that title which should be: As Long as It's for the Right Reasons. However, that was way too long of a title. But in actuality the blog post you're about to read is titled: There's Nothing Wrong with Wanting a Wedding as Long as It's for the Right Reasons.
As you all know, I got engaged this year. After we got engaged, the fiance and I sat down to talk about what we want as far as a wedding goes. There was a big part of us that didn't want to have a wedding at all. Weddings are insanely expensive. Even if you try to budget and DIY, it can still really add up. After much debate and discussion, we ultimately decided that a wedding was something we wanted to have. The thought of having all our family members and close friends together for a big party swayed us.
As soon as we came to an agreement that we were having a wedding, the planning began. Of course, I turned to the Internet cause where else would I start my journey? As I was reading article after article about wedding tips, tricks, trends, etc., I also read the comments because I am a glutton for punishment. (I have learned time and time again that Internet comments are filled with the most miserable human beings but I can never seem to avoid reading them.) Some of the comments were helpful – newlyweds talking about what they did to bring their wedding together. Then there were a bunch of comments from people who appear to hate weddings yet feel the need to not only read articles about weddings, but also comment on them.
So many of the comments went like this. "Why would you have a wedding?" "Weddings are a complete waste of money!" "Save your money and spend it on literally anything else."
A part of me can get the sentiment. I do believe that some people go overboard with weddings. If you have to take out a loan for your wedding, then there's seriously something wrong and you should scale back a bit. But the comments, and even some of the articles, read as though anyone who even considers having a wedding is an idiot. And I say, there's nothing wrong with wanting a wedding. And I am not just saying that as someone who will be having a wedding next year.
Just make sure that you are having a wedding for the right reason. It's fine to want a big poofy dress or a raw bar overflowing with shrimp and oysters. Get those frilly chair covers and splurge on a photo booth. But remember that the main point of the day is to marry your forever partner. It's to make a commitment with someone in front of all your nearest and dearest. The party is only one day. After all the guests have gone home, the food has been eaten, and your dress has been put away, you're left with a marriage. If that's not the most important thing on the day of your wedding, then you're doing it wrong and getting married for the wrong reasons.
Have a wedding. Have the kind of wedding you've dreamed about forever. Just remember the wedding is about you and your partner, and not just about your dream Pinterest board.