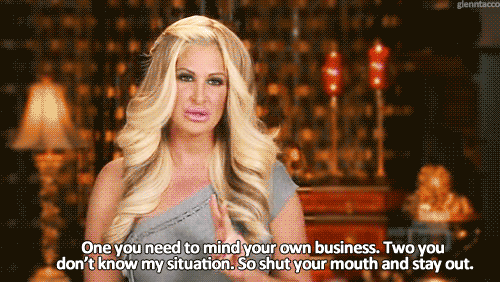 The title of this post may seem a little crass but that is exactly what I have felt like shouting to several people the past year. Something interesting happened when I entered my 30s. It seems that I entered an age where people start to become really concerned with whether or not I am going to have children. And I am not just talking about family members. It turns out that coworkers are highly concerned with what's going on inside my uterus.
I don't know if it's my age or the fact that I'm in a serious relationship; it's probably both of these factors combined. But either way, my decision to have children or not has been a very hot topic for many people.
"So are you going to have children?" "Do you want to have children?" "When are you having children?" "You have to have children." "Wait until you have your own children."
Children, children, children. Look, I love children. My nephews are two of my favorite humans in this world. I work with children and I absolutely adore them. But having your own children is a completely different thing.
I am still not sure yet if I want my own child. And to be honest, that's a decision that only I can make and the guy I'm with.
I think as a society we should all agree that asking the current status of a woman's uterus is something that we should all just stop doing! If a woman has a baby in her belly or is trying to get one in there, then she will tell you if she chooses. If she doesn't, then it's her decision.
Asking someone who doesn't want to have kids about this puts their back against the wall. "Do I just say no or say that I don't want kids?" "If I say I don't want, then I'll probably have to explain why."
But do you know what is even worse? Asking someone who is trying to get pregnant if they are pregnant or when they're going to have kids. You have just reminded this woman that she still does not have a baby in her belly which is probably the last thing that she needs. Trying to conceive and having a hard time is an incredibly difficult thing for any woman to go through. She does not need a constant reminder from her nosy Aunt Sally.
So if you ever feel like asking a lady about what's happening in her uterus, DON'T! Ask her how work is, about her next vacation, if she prefers pancakes over waffles. Anything else is better than baby talk!