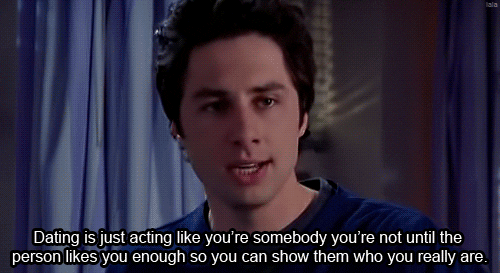 As you all know, I'm not so great at this whole dating thing. Never have been, probably never will be. I don't see myself becoming the next host of the Millionaire Matchmaker anytime soon. (Actually, considering that the host of a friggen matchmaking show is single maybe I could!) I spent a large portion of my 20's dating and making a lot of mistakes. But along the way I learned a lot. I've always been better at giving other people advice but not being able to give myself the same advice.
As it always seems to go, a lot of my friends have come to me for relationship/dating advice. I never understood it really. It's like asking the vegan what's the best way to grill a steak. But I liked it. Hearing others' experiences in dating and giving my own perspective, has also helped me learn a lot about my own dating life.
So I have decided to bestow some of my words of wisdom to you, my loyal readers. Please keep in mind that I do not claim to be an expert at dating. (I admit to being horrible at it right in the title.) But these are just some of the things I've learned along the way dating and hearing about the adventures in my friends' dating life. Also, all of this stuff is coming from my personal experiences. I am not excluding people on purpose but I feel as though I can only give proper dating advice to girls dating boys. It's all I know.
Sex is and isn't a big deal. When you're first dating someone, a lot of emphasis is put on sex. Just do a quick Google search of the phrase "when should I sleep with the guy I'm dating?" You'll get a million hits. And every single article will have a different time frame. As confusing as this may sound, my thoughts on sex when it comes to dating is that it's a big deal but in the same sense, it isn't. When you're dating someone new, sex is just another part of getting to know them. You should never be using sex as a way to get something that you want in a relationship, i.e. him making things official. But sex also does change the dynamics of a relationship. If you're already liking someone, the feelings may very well get deeper after you have sex. You need to be prepared for that. In the end, no one can tell you when you should sleep with someone except for you. Just do it when you feel comfortable, and ONLY when you're comfortable.
Do not get trashed on a first date. This is coming from someone who loves her alcohol. It's one of my favorite things in the world. However, getting drunk on a first date is never a good look. And this goes for both guys and girls. Have a drink or two to settle your nerves but keep the sloppy drunkenness for at least the third date.
If there's nothing there, you can't force it. This past year I implemented a two-dates and then I'm done rule for myself. I do believe that you can sometimes be unsure about a person after a first date. You feel like there may be something but you're not sure. There's nothing wrong with going on that second date to find out. However, if after that second date you're still not sure, it's best to just end things. You cannot force feelings. If they're not there, they're not there. Forcing it is unfair to the person you're dating and to yourself.
Don't string someone along cause you're bored and/or lonely. This is just wrong on so many levels but I feel as though we've all been guilty of doing this at least once. Even if we lied to ourselves and claimed we really liked the person. No, you just like the attention they're giving you. I'll go back to my previous point: if you're still not feeling it after the second date, cut ties.
Go into your own wallet every once in awhile. This may be an unpopular opinion and you all may not agree with me but I'm going to say it anyway. I think the guy should pay on the first date. Even if the girl does the whole "would you like some money?," it's just to be polite. She doesn't actually want you take her money. Now with that being said, your man shouldn't be paying for every single thing, every single time. If you're both working, there is no excuse for you not to dip into your wallet even once the entire time you're dating.
There's nothing wrong with meeting a potential spouse online. I have this friend who is obsessed with the perfect love story. She wants some epic tale of how her and her husband met that she can one day tell her grandkids. It's a great idea but usually doesn't work that way. Do you really think you're going to fall in the middle of the street and right before a taxi runs you over, a Ryan Gosling look-a-like is going to scoop you up in his arms and save your life? Sorry, this isn't a Nicholas Sparks movie. More and more people are meeting their significant others online and there is absolutely nothing wrong with that. The majority of single people these days probably have at least one dating profile, most have more than one.
Rejection is just a part of dating. I am going to be blunt here: not everyone is going to like you. Have you liked every person you've ever come across? Have you ever come across a guy who seemed really cool and even thought he was cute but felt absolutely nothing for him romantically? These things happen. And they are going to happen to you. You shouldn't take it personally. Just move on because there is a guy out there that will realize just how amazing you are.
Having standards is one thing but being too picky is not good. Keep your standards. Don't settle for a dud just because you're scared you're going to wake up one day at the age of 50, alone, with a dozen cats. There are some things that you shouldn't compromise with in a relationship. However, there is a such thing as being too picky. The guy you're dating isn't perfect and neither are you. Don't drop him the second you discover something you don't like about him.
The "What are we" talk isn't all that important. You've been dating a guy for a little while now and things have been going great. He texts you and makes time to hang out with you when he's not working. It's obvious that he's into you. The only thing that hasn't happened yet is the "Where is this going" chat. That's fine. There's no need to bring that up when it's early in a relationship if it's pretty obvious where you stand.
But if you're feeling unsure/uncomfortable about something, speak up. If you find yourself constantly questioning where you stand with a guy or feel that things have suddenly changed, then speak up. You have the right to know if you guys are on the same page or if you're wasting your time. A conversation like this can be scary and you may not always get the response you'd like but it's always better to bring it up sooner rather than later.