It's been awhile since I've done a TBT post. So here goes.
I like to boast about my lack of trips to the emergency room growing up. I never broke a bone. ::knock on wood:: Never even sprained anything. ::again knock on wood:: (You better have knocked on wood after reading that. If you didn't and I break something, I'm blaming you.)
There was only one thing that made me go to the hospital as a child: stitches. I always found a way to rupture my skin deep enough that a band-aid couldn't help.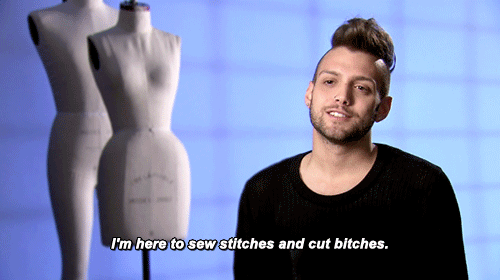 This Monday, there were two things I wanted to do when I got home from work: cook dinner and relax. Unfortunately, the universe had other plans for me. While my yummy crispy chicken was in the oven, I decided to do some dishes and dry them. I was drying a glass when it shattered in my hand almost severing a chunk of skin from my ring finger. (This is why I don't clean. It's dangerous!)
Quick side note about the glass: Yes it was a wine glass. To quote my friend Pam, "It's the ones we love the most that hurt us the most."
Everything after that happened pretty quickly. My bf took one look at the blood squirting from my finger and knew our night of relaxation had to be postponed. Three shots, several stitches and one immobile right hand later, I was home and in pain.
I am not one of those people who posts a photo of themselves on the beach less than a week ago and calls it a TBT. That story was just meant as a set up. I am very familiar with stitches. This wasn't my first rodeo. However, I was able to go 26 years inbetween stitch sessions. Pretty impressive for someone who is as clumsy as I am.
When I was a kid, I made an art of getting stitches. It started before I was even one-years-old when I was first learning how to walk. My first trip to the ER happened when I was still doing the walking-like-a-penguin, need-to-hold-onto-everything-or-I'll-fall thing.
Eleven-month-old Liz was wobbling along in the living room playing with a coaster. (I was a weird child. Coasters are fun!) I had one hand on the coffee table and the other holding a coaster. (I bet you sang that like Alanis. If you don't know who Alanis is, I love you but you may be too young for my blog.) At this time in my life, I wasn't ridden with anxiety yet, I was still a brave soul. So when I reached the end of the coffee table, I thought I could make it to the end table just a few feet away.
I couldn't. The second my hand moved away from the safety of the coffee table, I went down. Down went my little body and down went my little mouth right into the coaster. Apparently, this coaster was made of steel because it ruptured the inside of my mouth.
That was just the beginning of cuts above my face. My second foray into stitches was a direct result of me being a little shit. My childhood home in Brooklyn had these brick steps on the stoop. They were very dangerous and my sisters and I were always told to be careful. We rarely listened. The stoop also had a railing that was incredibly fun to slide down.
I spent many hours climbing up and down this railing with no incident. At 5-years-old, it's natural to think you're invincible. Nothing can ever hurt you, until it does. That's the only way to learn your lesson. And learn a lesson I did.
I was playing on the railing when my mom told me to get down before I get hurt. I made a face and kept right on climbing. Not even two seconds later, Bam! I fell head first onto the concrete. I actually remember parts of this myself and not just from retellings. When I first fell, I blacked out. I do remember randomly waking up on a hospital bed as a doctor was examining my head.
Once again, it was determined that stitches were necessary. I still have a small bald spot at my hairline reminding me that I'm a dumbass and should be more cautious.
My last adventure with stitches before this week was interesting. It happened when I was 6-years-old and I was sitting in the back seat of my uncle's car. Apparently I thought I was a dog, so I had my head out the window. This was also around the time when I started morphing into my true clumsy self. As my head was out the window enjoying the breeze, my elbow leaned on the button to close the window. Not wanting to have my head chopped off, I pulled my head back in. I just wasn't fast enough.
As my tiny head was making its way back into the safety of the car, my mouth got stuck. The car window closed on my bottom lip, almost ripping a corner of it completely off. (To this day, I am still not sure exactly how this happened. Nobody is.)
I sat in the backseat of my uncle's car screaming my head off with blood pouring down my face. The screaming kept up for the next several hours. My dumbass at one point started shouting that I needed a bandaid. My lip was hanging off but I thought a simple bandage would fix it right up. Brilliant!
Having stitches on my face at 6-years-old was not fun. It was probably the first time I remember feeling self-conscious. So both my anxiety and confidence issues can be traced back to my stitches. And now I can add a fear of wine glasses to the list. Fun!
Do you have any TBT stitches stories?