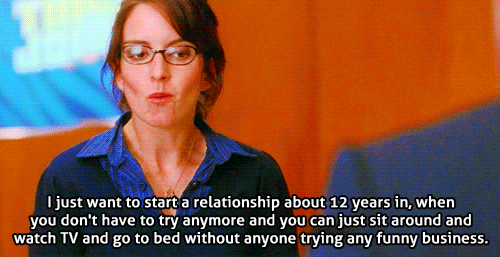 I'm tired.
I'm tired of the first dates. I'm tired of the same conversations over and over again. I'm tired of making online dating profiles. I'm tired of sorting through dating profiles. I'm tired of waiting for a text back. I'm tired of trying to decode what the text means when I finally receive it. I'm tired of getting my hopes up just to be let down.
I'm tired.
I don't know when dating became this exhausting. Before last year I had taken a significant break from dating. I went on a few first dates here and there but hardly ever a second one. I did date one boy for a few months but it never went anywhere. He was a great guy and we got along well. However, it was more of a friendship as I never had any physical or romantic feelings for him. For about two years, I was mostly out of the dating scene. And overall I was happy and carefree. I didn't have much to stress over.
Then early February of last year I met a boy. I've spoken about this boy before. He was the one who cooked for me and had GREAT hair. He was awesome and I pushed him away. Right after that I met another boy longterm readers should be familiar with. The infamous almost relationship boy. He was trouble from the beginning and gave me more stress than I could handle. Then in the very ending of December I met a boy who seemed like he could change my ways and outlook when it comes to dating. Turns out he couldn't.  (After writing that ridiculously corny "things are different this time" post, I was honestly embarrassed to write about things not working out. But this is a blog about my life and sometimes in life things don't work out.) He strung me along for much longer than necessary cause he was too much of a child to admit that he didn't want to date anymore.
I can't help but feel like dating needs to be easier than this. When did it get so complicated? When I was on my dating hiatus, I would randomly feel lonely and long for someone. But these feelings were fleeting and never lasted. After going about a year and a half with almost always having someone in my life, I question whether dating is really worth all this effort.
I recently finished reading Modern Romance by Aziz Ansari.* It had a lot of great insight into the modern dating scene. One thing that really stuck with me is that it seems that we all want the same thing yet do the complete opposite. Most people are looking for a real relationship without any games. They want to be honest with their partner and expect the same. However, in reality this is not how people act when it comes to dating at all. It seems that we've lost all basic human decency when it involves dating. We forget that behind that text message or dating profile is a real-life person with feelings and ideas.
Why can't we just be honest with one another? Sure no one likes to be blown off. But do you know what's a lot worse than being blown off? Completely being cut off without any explanation. Why can't we just respond to a text when we see it? Enough of the waiting game.
I don't know when or how dating became this difficult but I do know that I'm exhausted from it. I need a break. Maybe when and if I decide to re-enter the dating scene, I'll be a little nicer and so will the people I come across.
*I highly recommend this book to anyone, whether you're single or in a relationship. It's funny and insightful. I also randomly found myself reading passages in Aziz's voice which was so entertaining.